You guys, I finished 4 books today. 4. Granted, two of them were YA novels, but the other two were full-blown BOOKS! What is wrong with me? I have no explanation for this extreme display of nerdiness, other than the simple fact that I have a lot of time on my hands living by myself...and reading passes the time between classes. To be honest, once I'm interested in a book, I'd rather be reading than doing most anything else :)
I read basically anything nowadays! I used to focus mainly on women's fiction, novels about relationships or families. Now I find myself adding memoirs, mysteries, and all sorts of other things to the list. It's by far my favorite pasttime, and I'm hoping to feature "Top 3 Books of the Week" as a regular part of this blog. Here goes!
The Kitchen Daughter - Jael McHenry


OMG OMG OMG LOVED IT. Probably one of the best books I've read in a while. Not sure if I'd want to actually own it myself, since I know everything that happens, but it was so amazing and fun to read. Ginny is a young woman with Asperger's Syndrome (undiagnosed, but I'm sure that's what it is - she can't stand being touched/making eye contact) whose parents have just died. The book is basically about Ginny struggling through life with her different issues, trying to deal with the death of her parents along with her sister and everyone else around her who are also grieving. Ginny has always found solace in cooking, and she does so to deal with her parents death, as well as to solve a few "mysteries" from their past. By cooking up certain recipes important to past family members, Ginny finds (in a surprising twist of magical realism) that she is able to conjure up her relatives' "ghosts" by cooking their old recipes. There is a little bit of love, a little bit of culinary writing, a little bit of autism research, some magical realism, and a WHOLE LOT of good writing! Loved every minute of it, including the fact that it did not at all end how I expected it would.
Also, don't be put off by the magical realism. I don't normally gravitate toward books that feature any type of magic/science fiction whatsoever, and I didn't see it coming in this novel, but it worked. Trust me!
Zoo Story - Thomas French

This was a fascinating look at a well-known zoo in Florida that is known today for both its successes and its pretty major failures in the past (an escaped tiger and much controversy over elephants, for example). Although it was a book that was based mostly on research, I still found it extremely interesting and hard to put down. It talked a lot about the "king and queen" of the zoo (Herman the chimp and a particularly haughty tiger) and their respective falls from glory. It was both touching and sad, but it definitely had its funny moments too. A great book, overall! I'm not sure if I'll ever look at a zoo the same way again! I didn't think I would enjoy it as much as I did, but it was great.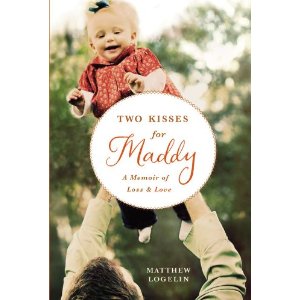 Two Kisses for Maddy - Matthew Logelin


This was a heartbreaking memoir concerning the death of Matthew's wife, who collapsed just a day after their daughter (Madeline's) birth from a pulmonary embolism. It started out as a beautiful remembrance of the couple's relationship and his wife's pregnancy, then turned extremely sad as Matthew told of his struggles to raise Madeline and simultaneously cope with losing his wife and best friend. Absolutely devastating and the saddest book I've read in a long time, but beautifully written. I normally don't cry when reading, but this book actually made me tear up.

BONUS BOOK:

Fathermothergod - Lucia Greenhouse


This was a fascinating memoir about Lucia, her family, and how she escaped from their beliefs in Christian Science. I loved this book! I have never known anything about Christian Science, nor particularly wanted to, but the writing here was beautiful, and it was actually relatable! Basically, the premise is that Lucia's mother is incredibly sick, but no one will tell the children what it is, since Christian Science doesn't believe in illness or medicine. (It's cancer.) Their beliefs prevent them from seeking help at a hospital, and all medicines are prohibited. Basically, Lucia must step back and watch as her mother gets sicker and sicker, unable to save her. Extremely interesting and not at all boring!


There ya go! If you're a book lover like me, these are all great reads, and I'd recommend them to anyone!

Also, lookie what I'm making for Super Bowl Sunday:


I <3 whoopie pies! These were found at makemerryevents!
(Sidenote: I wish I was attending an Anti-Super Bowl party instead. I really have no interest in football...or any sport, for that matter! Like...maybe a Movie Night and Cupcakes party? Or a...Jenga and Hot Chocolate party?)

Coming over the weekend: Two posts from Jared (I PROMISE they're coming - he's quite the perfectionist!), a Valentine's Day gift guide, and more DIYs!

xoxochelsea